Palenque, an integrated design from the pre-colombians
We are involved in ecologic architecture in Costa Rica for more then ten years, especially on the south pacific coast.
Natural geometry and organic designs using the Golden Mean proportion to integrate irregularities of the landscape for the creation of a habitat of well being made of noble materials, that grows sustainably...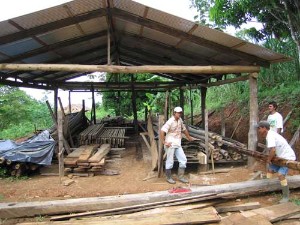 Materials
For years we have been training workers of the local community to use renewable materials and cut down waste on building site. Our construction system uses wood from reforestation and as little as possible non renewable materials like steel and concrete.
the trapiche, sugar cane mill and workshop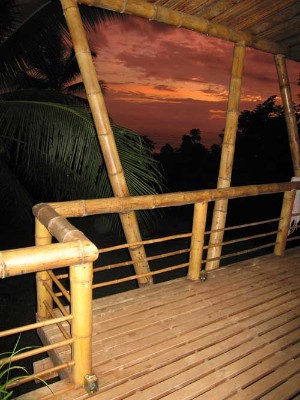 Building Technics
Since we have been realizing many different projects, ranging from private houses to retreat centers and ecolodges, our work as made us understand that less can be more, and that ecologic and sustainable goals can be reach without loosing comfort and esthetics. There is a way to council luxury and ecology.
Using permutations of a standardized structural elements, we can create spaces that have an overall esthetic, and can adapt to the topography of the terrain. The structure is made of reforestation wood and bamboo, being light and flexible. Natural ventilation is achieved by having a chimney effect letting the hot air out.
Bamboo terrasse on the beach